Description
FireWire Cat 5 Repeater
This is an industrial FireWire Repeater! It allows you to connect FireWire devices that are up to 100 meters away via inexpensive Cat 5 cable and two transceivers.
Why would I need this?
Normally FireWire is only sustainable for about 15ft. There are a couple of ways to increase that a little. But, let's say you have a video camera that connect through FireWire and you want to run it to a computer that's 100 feet away. This kit will allow you to make that happen.
Compatible with FireWire devices
it doesn't matter what brand, make or model your FireWire device is, this is compatible. It's just as if your FireWire port were right there by your device. It is important to keep in mind that this runs up to 100Mbps, whereas FireWire itself can run up to 400Mbps. You may want to try one of our Optical Repeaters if you're needing more speed, such as if you're running a higher resolution or higher frame rates on your cameras.
What's included
FireWire Repeater Kit (includes two transceivers)
Owners manual
REPLACED BY
Firenex S400 Cat5 Repeater
Side by side repeater comparison
Click on pictures to enlarge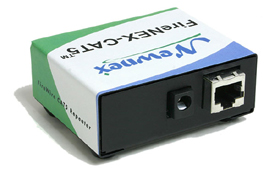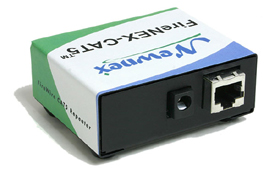 Specifications
Two IEEE 1394a 6pin ports
Two Cat 5 (RJ45) ports
Works with both PCs and Macs
Low power consumption: 3W (DC12V/0.25A)
Weight: 91g
Compact size: 72x58x27 mm
Works over Cat 5 Cable
Data Rate up to 100Mbps
Reach up to 100 meters (approx 300ft)
Backward compatiable with 1394a standard
One year manufacturer warranty
Operating Temp: -45c - 75c
PART# RR-FIRENEX-CAT5