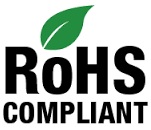 ROHS Compliance:
DATE:
www.

USBFireWire.com

ANGLED — SHORT — CUSTOM — CABLES
3737 N HYDRAULIC, WICHITA, KS 67219
Phone 877-522-3779
Fax 316-803-1154


[email protected]
Dear Valuable Customer:
We hereby declare and guarantee the Cable Assemblies and Adapters supplied by RR Business Ventures, LLC – dba - USBFireWire comply with the RoHS Directive (EU) 2015/863 of the European Parliament and of the Council of 31st March 2015 on the restriction of the use of certain hazardous substances in electrical and electronic equipment. Based on your RoHS 2015/863 compliance requirement, we have verified all our USB and IEEE1394 series products already comply with RoHS 2015/863 Directive.
The EU RoHS Exemption – Annex III applies to our products. Any solder used within connectors is a Copper Alloy with up to 4% Lead by weight in it, which is exempted by 6c.Note: There is Copper Alloy in some of our products and the Copper Alloy contains Lead (CAS# 7439-92-1) >0.1% by homogeneous material weight, which does comply with the application of RoHS with the Exemption (6c): Copper Alloy containing up to 4% Lead by weight.
P/N:
At RR Business Ventures, LLC —dba- www.USBFireWire.com we are committed to remain environmentally sound and provide a safe environment for all our employees. We look forward to taking care of you in the near future.
For any additional questions or inquiries, please contact Rick Wessley at (877) 522-3779 or email at
[email protected]
Successfully,
The USBFireWire.com Team